Oh, the Places You'll Go

Mark C. Sollis, Associate Vice-President, Alumni
---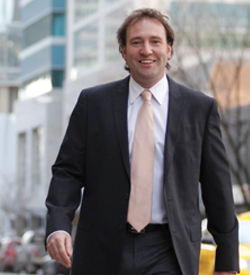 Our journey to transform the alumni program at the University of Calgary continues, and, this issue, I'm happy to highlight a few of the latest developments.
In late March, we completed a refresh of the alumni website and I'd encourage you to check it out. It's packed with content from our publications, programs, and podcasts.
You can browse some of the alumni benefits, learn a little more about UCalgary or find out what's happening on campus in our event listing.
Our regional program is also in full flight with regular activities in Toronto, Vancouver, Edmonton, New York, San Francisco/Silicon Valley, and Hong Kong — with Houston coming soon. If you're in these areas, check in online to see what we're up to and we'll put you in touch with your colleagues in the area.
For those alumni outside these major centres, we're keen to providing options for you to connect, also.
We're capturing more of our event programming and putting it up online and creating specific digital content such as webinars and online panels. We've launched our short-form video series featuring alumni and faculty members discussing current issues, as well as a collection of notable alumni stories. Wherever you sit, or whatever your schedule, we'll do our best to be of service to you.
We're also getting ready for 2016 — UCalgary's 50th anniversary. It's sure to be an exciting year. Check this space in November for more details from the team.
To learn more about volunteering with the Alumni Association, or alumni programs at the university, please visit ucalgary.ca/alumni/volunteer or email Audrey at alumnivolunteers@ucalgary.ca. U
— Mark Sollis, Associate Vice-President, Alumni
---