Always hungry for the inside gastronomic track on a city, Deb Cummings checked in with alumni who now live in these culinary capitals who happily gave their prime picks on where to dine. Whether you're craving a divey honky tonk that serves life-changing brisket or a soul-satisfying platter of sushi, here are some 
of the best.
---
Hong Kong
Nicole Fung, BComm'10
Co-founder of That Food Cray, a food and travel website that claims to "eat" outside the box, Fung is a Hong Kong-based Canadian accountant who has also launched a women's e-commerce site called MISSBISH. Far beyond sesame balls and Reigning Champ hoodies, Fung takes readers and visitors on a pork-bun-paved path of enlightenment, straight to this culinary capital's very soul.
Where to splurge? Yardbird — my favourite Yakitori restaurant in Hong Kong. We always order the corn balls, liver mousse, KFC (Korean Fried Cauliflower), and a ton of yakitori.
Cheap Eats? I live right across the street from the cheapest Michelin-star restaurant in the world called Tim Ho Wan. It's a dim sum restaurant with the best BBQ pork buns ever.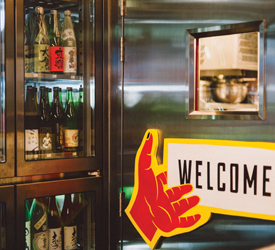 "Welcome" sign from Sunday's Grocery, photo: Carmen Chang.
Hidden Gems? Kakurega Ramen Factory — one of the top ramen restaurants in the city and Kung Wo Dou Bun Chong that serves strictly soy products. The soy milk, pan-fried tofu and tofu pudding are incredible.
If you could have only one last meal in your city, where would it be? Kam Wah Cafe — it's a Hong Kong-style cafe with the best pineapple buns.
Weirdest thing you've ever eaten in your city, or something you refuse to consume?Rooster testicles.
Is there a celebrity chef in your city that you follow? Matt Abergel; he's from Calgary and owns a few restaurants — Yardbird, Ronin and Sunday's Grocery.
No. 1 go-to spot? Ichiran. It's a 24-hour ramen restaurant.
Any food trends that have swept your city? Mexican, ramen and burgers have been the most recent ones.
---
New York City
Robert Leclerc, BA/BSc'01, MSc'03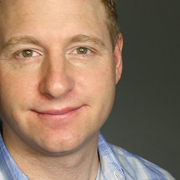 What possibly could the CEO and co-foun­der of AgFunder, an investment crowdfunding platform for agriculture and food technology that has helped companies raise $13.3-million in the last year, know about food in a city awash in more than 22,000 restaurants? Turns out, a lot. While currently a happy transplant in N.Y.C., Leclerc's passion for food began while working as a waiter at Earls in Calgary.
Where to splurge? Mercer Kitchen in SoHo, where I always suggest the famous mac and cheese that's a recipe from chef Jean-Georges' wife. Or Barry Wine's raw tuna and wasabi, sashimi salmon with crispy sushi rice, chipotle mayo and ponzu.
Where to save? Caracas Arepas in East Village. Doesn't everything taste better with spicy mango sauce? Then there's Prosperity Dumplings in Chinatown — four dumplings for $1. One of the city's oldest and coolest bars is the Corner Bistro in West Village — order the bistro burger with American cheese and crispy bacon.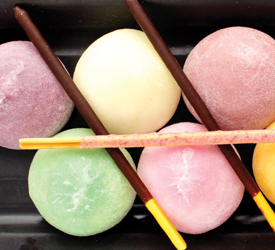 TAO Uptown, photo: Carlos Larios.
If you were forced to have one last meal in N.Y.C., what would it be? A pastrami sandwich from Kat's Delicatessen.
Most impressive power lunch? Four Seasons in Midtown, N.Y.C.
For pure ambiance? TAO or Buddakan.
Best neighbourhood for great grub? East Village.
Weirdest thing you refuse to consume? Bull's penis at Kenka, St. Marks, N.Y.C.
Top trends? Ramen and BBQ.
No. 1 go-to spot? Tocos Morelos — a taco stand on the corner of Avenue A and 2nd Street in East Village.
---
Toronto
Melanie Baron, BKin'04
When her hands aren't covered in fondant icing, this professional pastry chef who works for Give and Go Foods in Bakery R&D, can be found researching food trends or sussing out unusual ingredients at local markets.
Where to splurge? Lee on King Street. Must-have dishes include Susur Lee's signature Singaporean-style slaw and the caramelized black cod.
Where to save? Vietnamese pho from Hanoi 3 Seasons. The pho ga (chicken with lemongrass) is my personal favourite.
For pure atmosphere? Skin and Bones. This cozy wine bar has exceptional food, a superb wine list and a staff that is welcoming and knowledgeable.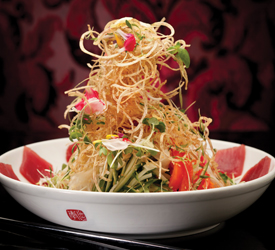 LL slaw from Lee on King Street, photo: Jason Finestone.
Best outdoor patio? Trattoria Nervosa in Yorkville has a gorgeous rooftop patio that's perfect for people-watching while sipping a glass of wine or sangria.
Favourite food market? The Evergreen Brickworks market is a great spot to nab fresh produce, as well as meet local food vendors. I love that I can walk along Queen Street, get the freshest produce from Carload and the best fish from Beach Fish House, while chatting with the owners in the process, instead of walking around a huge grocery store.
Best cuppa jo? Te Aro has fantastic coffee — they buy coffee beans directly from farmers and roast the beans in their shop — and make exceptional espresso drinks.
No. 1 go-to spot: Sushi Marche. They have my usual order on record.
---
Edmonton
Danny Turner, BSc'96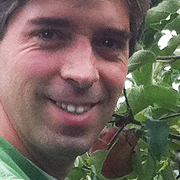 Being connected to our food system was one of the drivers that has propelled Danny Turner's company, The Organic Box, into Northern Alberta's leading local and organic food hub. Not only do Turner and his wife, Miranda, supply thousands of families with weekly organic wonders, but they own and operate a commercial fruit orchard in Creston, B.C.
Where to splurge? North 53 on 124 Street is an excellent place to go for family-style dining with shared plates. Sunchoke soup, carrot salad, and the whole roasted chicken large plate are my standards.
Where to save? Elm Café on 117 Street — probably the best takeout sandwiches in Edmonton and the menu changes daily.
Most impressive power lunch? Rge Rd on 124 Street. Blair Lebsack is one of the city's most gifted chefs and his commitment to local food and seasonal menus is remarkable.
Crunchy salad from North 53, photo: Shaun Hicks.
Best regional food? Origin India on Whyte Avenue is our favourite curry takeaway. They also have an eat-in buffet that is excellent. It's tucked away in the basement of a building beside the Tim Hortons, so it can be tough to find, but well worth it. I love to order from the secret menu and challenge the kitchen to come up with some of my most-loved dishes from when I lived in England.
Is there an area that is loaded with great restaurants? 124 Street, west of downtown. The area has recently undergone a revitalization that now includes the outdoor 124 Grand Market on Thursday evenings in the summer.
Best juice bar? Glow Juicery has two locations in Edmonton and its owner, Marnie Ashcroft, is a leader in raw juicing.
---
Los Angeles
Whitney Campeau, BA'09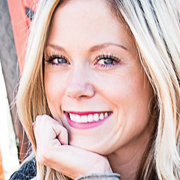 She may be an interior decorator by day, but this English grad is a serious lifestyle blogger by night. And the juicy part of that beat — Campeau gets to nosh a path around La-La Land — is precisely why we chose her to be our gustatory guide to one of North America's top culinary wonderlands.
Is there an area in L.A. that is loaded with great restaurants? GQ named Abbot Kinney Boulevard in Venice the "Coolest Block in America," and I have to agree. There are so many innovative restaurants on this street — Zinque, Tasting Kitchen, Gjelina and Salt Air are just a few of my favourites.
Best cuppa jo or juice bar? Cafe Luxxe — I like the location on Montana Avenue in Santa Monica, but there are a couple of them around the city. Try their iced coffees on a hot day. For juice, Pressed Juicery is the one.
Nigiri plate from Sugar Fish, photo: Dex Studio.
Is there a celebrity chef in your city that you follow? Chef Curtis Stone recently opened an amazing new restaurant called Maude where they focus on a new seasonal ingredient each month. It's nearly impossible to get a reservation, so the trick is to call often and ask to be on the waiting list. I'm hoping to get a spot in June for avocado season!
Any food trends that have swept your city? L.A. is a very health-conscious city, so various health trends are constantly being touted. Juice cleanses have recently been replaced by vegan food — though not just any ol' vegan food. Cafe Gratitude is a restaurant with a few locations around the city, and their I Am Whole bowl is seriously delicious. All of their menu items have affirmations instead of names, which can seem a bit hokey, but you get over it once you see how great the food is!
No. 1 go-to spot? Sugar Fish; best sushi in L.A. The "Trust Me" chef's menu is the best thing to order — trust me!
---
Vancouver
Brian Misko, BA'90
Who, exactly, is BBQ Brian? A few years ago, the psychology grad quit his job as a sales rep for a software company, entered a few local BBQ competitions and was hooked. Last year, the owner of House of Q Foods Ltd. clocked 40,000 km on his truck and 20,000 in the air — travelling the circuit and "spreading the sauce," so to speak. However, the champ — Misko and his team won the Canadian BBQ Society Team of the Year for 2014 — does ditch the grill from time to time to explore other kitchens.
When you were a university student, where did you eat? Pizza at Dinnnie's and nights off were spent at Bottlescrew Bill's, socially proclaiming and defending hypotheses. We'd often end the night at Singapore Sam's for ginger beef. And I'll never forget the golden gem of an eatery that I often dream about to this day, Chicken on the Way. Oh, how you haunt me.
Vij's entrance.
Where to save in Vancouver? Try the takeout sushi at Fujiya (Clark and Venables) — dinner for three for under $20. The smoked-meat sandwiches at Estrella's Montreal Deli in Langley are also fantastic — they rival anything from St. Catherine Street in Montreal.
Best outdoor patio? The Kingfisher in Port Coquitlam, right on the river. You can't go wrong ordering a local craft beer.
What celebrity chefs do you follow in Vancouver? Vikram Vij is a model for me as far as pioneering a genre, as well as commercializing it. And Ned Bell is another chef I always watch, as he's an industry leader for conservation issues such as sustainability of food, namely fish.
---
Halifax
Landon Brown, BKin'09
Currently a kayak expedition guide with NovaShores, alumnus Brown is furthering his studies in nutrition. Not only does Brown paddle like a pro, but, when he's out on the water, he doubles as a chef on multi-day sea kayaking trips where he constantly experiments with local foods.
Where to splurge? When friends come to town we always go to Two Doors Down. Typically, I order a Hell Bay English Ale with the market fish of the day.
Where to save? Darrell's on Fenwick Street — they have two-for-one burgers on Mondays. Halifax also has a Burger Week where Darryl's peanut butter burgers have been the top pick for years.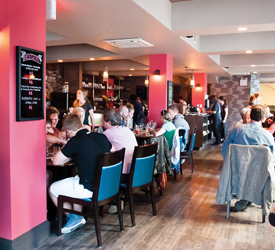 Two Doors Down, photo: Steve-o-Reno's & Jennifer Partridge.
Hidden gems? Have a platter of Huevos Rancheros at Steve-o-Reno's on Brunswick Street for Saturday brunch. Very relaxed vibe and excellent cappuccino.
Best regional food? It's a short drive, but The Wild Carraway in Advocate Harbour has been recognized as the best restaurant in the province. I've run into the Carraway staff picking cattails and harvesting chanterelles to help prepare their daily menu! I generally order any plate they're currently preparing that includes scallops.
Best outdoor patio? Garrison Brewery, next to the Seaport Farmers Market.Try the Nut Brown, on tap.
No. 1 go-to spot? The Henry House. Try the squash tart with greens for a side and a "Dark and Tan" cask beer. U
---