TRANSFORMING POSSIBILITIES
---
Jeremiah Niyonzima

Refugee Student Aims to Heal Others
by Mike Fisher
---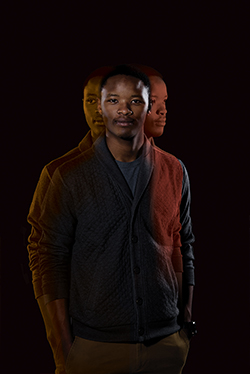 Jeremiah Niyonzima struggles to put the big bucket on his head. It's filled with the water his family needs for the day. Others jostle at the water pump, shouting and arguing. He threads through them, toward the mud brick hut where his family waits.
He's eight years old, living in a refugee camp.
For the next 13 years, dodging along makeshift streets and pathways, cutting past mud brick huts and tents, Niyonzima goes to fetch water. His family fled war-torn Rwanda when he was two years old. He has grown up inside refugee camps in Africa for most of his life.
Two years ago, he caught a break and came from the Dzaleka Refugee Camp in Malawi, in southeastern Africa, to the University of Calgary. Today, he's a second-year nursing student, his eyes set on becoming a physician.
He's transforming his hardscrabble life in a refugee camp into a purposeful mission aimed at helping others.
"My mom has health problems, so life is harder for her," says Niyonzima, 23. "If I become a doctor, I can help my mom. I can help other people who are sick or have poor health.
"In Africa, I saw how people struggle with life. How they need help in a hospital, how they need someone to help them recover. For me, being a nurse or a doctor is a way to help people. It has been a passion for me, even when I was younger."
His mother and father, as well as three of his four siblings, are still in the refugee camp in Malawi. Niyonzima sends them money when he can — his mother raises chickens on a small scale to supplement the little food they get from the World Food Organization — and he keeps in touch using email, phone and even Facebook; there is a small Internet café in the camp.
Niyonzima plans to apply for Canadian citizenship after living in Canada for four years. Then, as a Canadian citizen, he plans to sponsor his family.
"I will not be financially equipped to sponsor them to come, which means that I will have to look for sponsors who can help to reunite me and my family," he says.
The University of Calgary Students' Union has had a partnership with the World University Service of Canada (WUSC) for some 30 years, helping to bring refugees to study at the university.
Niyonzima came to UCalgary through this program. The university pays tuition, textbook costs, admission fees and accommodations for first-year refugee students. More than 300 students applied to WUSC when he was at the camp and they picked 20 based upon academic and language qualifications.
"In the camp, education is not taken seriously, because no one has hope of going further with school once they finish the primary school," he says. "So students just go to school to pass the day.
"I did my primary education in the refugee camp for eight years and was lucky enough that I got good grades and received the government sponsorship to do my high school outside the camp for four years."
Niyonzima's transformation from refugee camp to life at the University of Calgary has been almost seamless.
Sarah Pousette, the Students' Union vice-president (operations and finance), says: "I'm inspired that, despite everything Jeremiah has been through, he wants to contribute to improving the well-being of the human race. He's a great reminder of why a program like this is so important and the value that students from other countries bring to our campus."
Ruth Swart, his instructor in the Faculty of Nursing, says he has fit into the academic program remarkably well.
"Jeremiah is helpful and respectful," she says. "He's personable and friendly. He has worked hard in his classes and he has made great efforts to do his best. He gets along really well with his peers, functioning well as part of the team."
Now he's living with two other students in a comfortable house. In the mornings, getting water is simple. He just turns on the tap.
"I'm still learning how to adjust," says Niyonzima. "I speak five languages, so that has not been a problem here. But learning to adapt to the weather, which is always changing, it seems — that has taken effort."
---