TRANSFORMING GENDER
---
Teri Bryant

Trailblazing Trans Issues
by Deb Cummings
---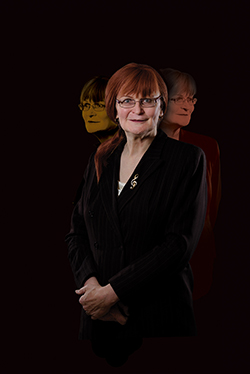 For most of us, "male" and "female" are our cultural signposts. They're an organizing principle that makes our crazy little world somewhat tidier, leaving us with neat parameters, constructed to give us comfort.
And then there are people whose lives confuse and disturb that rigid little construct — people like Teri Bryant.
For more than 40 years, now-retired Haskayne business professor Teri Jane Bryant (originally known as professor Terry Ursacki) lived with an identity that didn't fit.
Although Bryant is now comfortable as a woman, there were decades when she didn't feel right with the gender box she was required to check when self-identifying.
"Medically, I am now a post-operative male-to-female transsexual," she quips, "but, if we are being honest here — I went from being an unsuccessful man to being a successful woman."
This is her story.
Born genetically male in London, Ont., Bryant was the first child in a family that shuffled around small-town Ontario so frequently, Bryant remembers attending nine schools in nine years. By the age of 10, Bryant had no friends and plenty of secrets. The only outlet for an irresistible drive to be a woman was to dress up in her mother's clothes when the house was empty. Her sense of isolation was accentuated by non-stop bullying that lasted until high school.
Bryant, however, was bright (she knows five languages) and, by grade thirteen, had saved enough money toiling at a supermarket to leave small-town Ontario behind. In quick succession, she completed undergrad studies at Laurentian University, a semester in the Soviet Union, an MBA, a traineeship in Japan, four years in banking and a PhD at UBC, before coming to Calgary in 1990 to teach international business in the Haskayne School of Business.
All these academic accomplishments in the skin of a man — a man so driven to be a woman, Bryant actually cross-dressed while her university roommate slept. And this was in a residence run by Jesuits.
However, it was still almost another decade before Terry would become Teri in 1999, ending decades of gender dysphoria. By then, Bryant had become a popular business prof, and had begun to venture outside, dressed as a woman. These secret expeditions involved carefully avoiding human contact, until in 1993 she discovered a transgender club in Calgary called Illusions.
"Going public, even just a little, made me a much more open person," concedes Bryant. "After a few glamorous drag performances, I disclosed to my dean that I was cross-dressing."
Twirling her red pony tail around a finger, Bryant says, almost coquettishly: "Who else can say that they were simultaneously Area Chair of the Policy and Environment Group and Empress V of the Illusions Social Club?"
Joining the trans community gave Bryant the knowledge and confidence to plan her transition. She signed up for psychological counselling on transgender issues, started electrolysis and voice therapy, and scheduled cosmetic surgery. After completing the required year living full-time as a woman, she had two surgeries in the US in 2000 and 2001 to complete her transition. She covered the $100,000 tab by mortgaging and then selling her dream home.
"I will always remember returning to university that fall as a woman," says Bryant, concerned about students who knew her as a man.
"I remember this one student who looked at me a little quizzically, as though I was speaking Martian while everyone else was acting normal," she grins, cuddling her cat, Wallace. "Of course, you'd wonder what wormhole you had just stepped through? But the student sent me an email after class and said you know, 'I was confused, but now I understand and support you.'"
After those agonizing decades of psychological distress over Bryant's biological sex, was the transition that easy?
A self-confessed control freak, Bryant admits to having been very, very prepared. Before her first workday as a woman, she sat down with every faculty and staff member and explained what was going on. She also met with the university's sexual harassment coordinator, who helped devise a handout for her students.
"I was pretty matter of fact," Bryant recalls. "I told my students I had made a change in my life and if they had questions they could refer to the services in the handout, and then I think I said, 'Let's get on with the class.'"
Two years after that, Bryant married and now tries to give back to the trans community by speaking to various interested groups, from church congregations to healthcare professionals, helping ensure that genderqueer kids growing up today aren't marginalized the way she was. U
---