The Journey to the 50th

Mark C. Sollis, Associate Vice-President, Alumni
---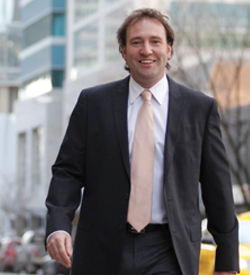 As we prepare to enter the university's 50th year, and to deliver the most robust alumni program yet, I thought I'd take a few moments to look back at the journey over the past few years.
Building on one of many commitments it outlined in the Eyes High strategic vision, UCalgary undertook in 2012 a large overhaul of its alumni program.
It conducted a large-scale study of its alumni, as well as major benchmarking against other alumni shops across North America. It outlined a game plan in a three-year Alumni Startegy and set about a deliberate course to develop the stage for 2016.
In alumni communications, we've seen the revamp of UCalgary Alumni Magazine into an award-winning publication focused on finding the intriguing stories within our alumni community, sharing the best and brightest of the people at the university and keeping you up to speed on happenings at the university, while offering it all in a new creative, more playful package. We're in the second season of the Peer Review podcast — our weekly series featuring in-depth conversations with interesting alumni from throughout the community — and we've heard from many of you that it's become a staple of your staying in touch. This year, we've launched our digital video series and the weekly Alumni Bulletin — all with the intent of offering a more diverse suite of options for you to access the alumni and UCalgary story.
On the program front, Learn, Laugh, Lead, is now in its second year and is determined to reach recent graduates with a mix of professional- and personal-enrichment options. Under Idea Exchange, we've moved in a major way into regional programming with a focus on reaching alumni concentrated in eight centres across North America and Asia, as well as supporting a core group of alumni volunteer leaders in each. The Alumni Association's marquee recognition program, Arch Awards, underwent a significant facelift, we've focused on identifying and increasing access for alumni to the countless lectures and panels across campus and we've launched our digital program this year with online networking sessions. All this while maintaining the core programming, such as Skate with Santa and Grad Day, that many have come to love.
It's been an incredible journey, and there are many in the alumni and university population who I've had the pleasure of experiencing their support and hard work over the last four years. Thank you.
We're ready. Alumni Weekend on April 30 and May 1 will launch an outstanding 50th year, with our 50 in 50 program series (stay tuned) at its core. Be sure to take it in. U
— Mark C. Sollis, Associate Vice-President, Alumni
---