---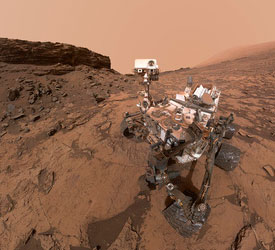 What would a colony on Mars look like? What would be the design considerations? How do you make it inhabitable?
These challenges are exactly what's being explored in a new studio course in the Faculty of Environmental Design.
Developed in conjunction with the Harvard Business School Aerospace Alumni Group, this course looks at designing the short-term living and working space for the early missions with four to six crew members, and then further out at a larger research base housing 50 to 100 people.
The Mars Studio has 12 students enrolled this semester and features speakers including Chancellor Robert Thirsk, BSc'76, LLD'09. The course started with three weeks of research on the conditions of Mars, how humans have colonized remote lands in the past and how astronauts live in space.
Current projections suggest a trip to Mars may be possible in about 15 to 20 years, so courses like this could provide insight into what a real colony may look like.
Future offerings of the Mars Studio could include building prototypes, research and design. U
---
← Back to Notebook
Next Article →
---