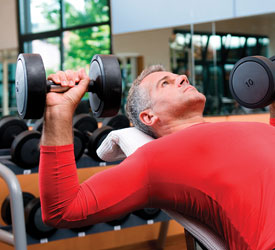 Healthy Habit for Your 50s:
Maintain Bone Health
---
Bone health declines with age, as the risk of osteoporosis and fragility fracture increases. At least one in three women and one in five men will suffer from an osteoporotic fracture during their lifetime.
Bone loss begins in your 50s, and for women it may accelerate around the time of menopause.
To help maintain bone health, you should consume 1,200 mg of calcium daily, ensure you receive adequate vitamin D (600-4,000 IU/day) and exercise to build muscle strength and prevent falls.
Activities that load the skeleton (walking, running, weight training) are excellent for skeletal health.
– Steven Boyd, UCalgary professor and director at the McCaig Institute for Bone and Joint Health; Lauren Burt is a postdoctoral fellow at the institute.
---