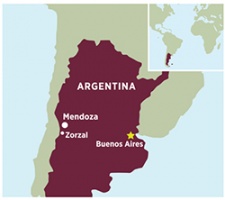 Gualtallary could pass for the Rockies with its snow-spackled mountains, blue skies, crisp air and jaw-dropping majesty. In reality, it is a sub-region of the Uco Valley, tucked into the imposing shadow of the Andes, about an hour southwest of the city of Mendoza, Argentina.
What's unusual about Gualtallary is the combination of extremely high altitude (1,350 metres above sea level), sun-soaked days, cool nights and chalky soil — a winning formula for creating wine. It is here, on a 70-hectare spread of land, that Zorzal Vineyards & Winery has been thriving since 2009.
While part of Zorzal's success is its terroir, another key ingredient is its head winemaker and co-owner, Juan Pablo Michelini, along with his older brothers, Matias and Gerardo. The three brothers are at the vanguard of Argentina's new wine industry, creating international buzz with their cutting-edge techniques and scooping up prestigious awards for Zorzal including Best Malbec over US$50 in the 2010 Argentina Wine Awards — the most important competition in the country, plus international acclaim as one of the Top 100 Wineries of the Year in 2012 and 2013 by Wine & Spirits Magazine.
"I would say that they are crazy winemakers, but in a crazy-smart way." - Bruce MurrayYet, Zorzal Wines wouldn't be able to reap these rewards without the support and investment of its 56 shareholders — many of whom are not only from Calgary, but are University of Calgary grads. In fact, the company's president is a UCalgary alumnus and former instructor.
"It truly shows just how small the world has become, that a little group of U of C alumni were able to invest in a start-up winery in Argentina that is now making an impact on the wine world," says president Bruce Murray, BComm'79. "It makes you proud as an alumnus, and as a Calgarian, to step out of your comfort zone and knock it out of the park."
Murray, who is also president of Powder Mountain Energy Ltd., and a former sessional instructor with the Haskayne School of Business, jokingly calls this latest adventure the "United Nations of winemaking," due to its global scope. From the winery's location in Argentina, to its joint venture with a Chilean marketing group, to it boasting a best-in-class temperature-control system shipped in from New Zealand, to the French fermentation techniques it's borrowed — it seems every part of the planet has influenced Zorzal.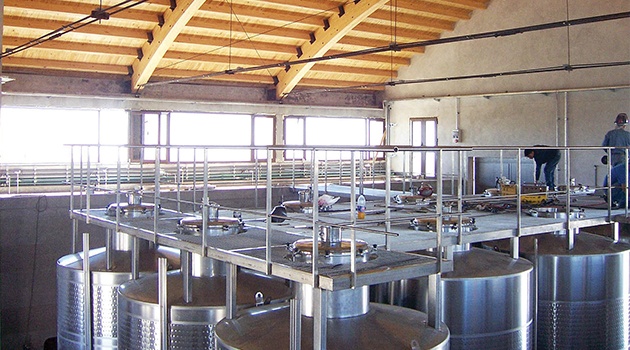 Also, people from around the globe are getting the chance to taste these high-altitude wines, thanks to its worldwide distribution. "One of the most exciting things is when our friends call us from their vacations and tell us they found a Zorzal wine on the menu," says Murray's wife, Kim, also a company investor. "We just had some friends who were touring in Iceland call to tell us they ordered a bottle of Zorzal from a restaurant in Reykjavik."
While it seems all the pieces have fallen in place for the group, building a winery from the ground up on another continent has provided unique challenges.
Janette Brown, BEd'80
We thought that grapes were like carrots, you'd just throw them in the ground and they'd grow. But not so. When there's a heavy rain, the yield of grapes can be much higher, so the winemakers are out there pruning and culling. You would think you would want more grapes and volume, but Zorzal is aiming for quality, not quantity, so if you didn't prune you would get higher quantity, but not the best quality. That's because the grapes didn't get the proper sun, or moisture.
Scott Brown, BSc'80
What I learned is that when you drink a lot of red wine, you get a lot of canker sores in your mouth! Maybe it's all those tannins.
Dan Huras
The production of blended wines. I always thought it was a very sophisticated, very controlled process, but then I went to Argentina and saw them experiment. They literally pour some Cabernet Sauvignon and Malbec together and then they throw in a bit more — a lot of it is trial and error.
Loreen Huras
The picking of the grapes is a very sophisticated process. I didn't realize that the winemakers have to know when each single bunch is ready, and they won't pick the whole vine at once, only the grapes that are ready.
Bruce Murray, BComm'79
I learned the technology is important. We have a gravity drainage system that doesn't use any pumps. The grapes go in at the top and the juice transports naturally from one level down to another without pushing the grapes, which gives it a better face. You can change the quality of the wine with good technology.
"One of the things we learned very early on is that there is no word for 'budget' in Spanish," says Zorzal's CFO, Dan Huras. A former vice-president with TransCanada Corporation, and current CEO of ClearBakk Energy Services Ltd., Huras, along with his wife, Loreen, who works at UCalgary in Human Resources, were among the first shareholders to invest. Through a Calgary business associate, Huras heard the Michelinis were looking for financing to kick-start a winery. Huras was instantly intrigued by the idea. He had frequently travelled to South America in his previous position with TransCanada and loved the people, culture and, of course, the wine. With his interest piqued, Huras started doing research.
"Probably the first five people I talked to said, 'You're an idiot if you start a winery,' and then I'd have to endure the old joke about, 'How do you get a small fortune? Start with a large one, then start a winery,'" Huras says.
But, the more Huras considered the land, the more promising it looked. "If you're buying in the Okanagan, Napa Valley or France, the land is ridiculously expensive and yields aren't as high," he says. "But, when we looked at Argentina at the time, land was cheap, labour was cheap, the yields were high and the export market to the U.S. and Canada was growing at 40 per cent per year."
There was also the potential for Mendoza to grow into a world-class, wine-producing region. Renowned French wine expert Michel Rolland commented on the area, saying, "It reminds me so much of Napa 20 years ago. Just one thing: it won't take the Uco Valley so long to catch up."
Huras made the decision to invest in 2007. Through word of mouth, more and more friends (and friends of friends) came on board, including Murray, who was testing out retirement at the time.
Janette Brown — I like the Field Blend. It's not quite as dry as the other reds. It's just flavourful and wonderful to drink.
Dan Huras — Climax. It's a big, bold wine.
Scott Brown — I like the Pinot Noir. It's so delicate and makes such a nice pairing with fish or red meats or even by itself. I find it's light and just right.
Loreen Huras — Field Blend. It's a smooth, full wine that's great with steak, but you can also drink it alone.
Bruce Murray — I can't narrow it down between the Field Blend, which is a perfect combination of Malbec and Cabernet Sauvignon and the Porfiado, which is just amazing and our go-to wine.
Kim Murray — The Chardonnay is great, because it's not overly oaked and it's a little more in the French style.
"When Dan asked me to take on the role of president of Zorzal, he said it would require a few board meetings and a little bit of paperwork; I foolishly believed him," says Murray. "The rest, as we say, is history. Much blood, sweat and tears, coupled with incredible friendships, blue-sky Andes days, much laughter and some absolutely mouth-watering, spectacular wines."
Most of today's 56 investors live in Calgary, with a handful in B.C., Ontario and even Brazil. "A spider web of connections," is what Murray calls the group, comprised of roughly a dozen UCalgary alumni including husband-and-wife shareholders Scott Brown, BSc'80, a former university senator, and Janette, BEd'80.
"I believe we first got involved in Zorzal over a glass of wine," laughs Scott. "We had just returned to Calgary from an overseas assignment in Norway. We were getting reengaged with friends when they popped open a bottle of Zorzal, mentioned they had invested in this start-up winery and that there was still an opportunity for more investors. I guess by the time the bottle was finished, we were pretty much convinced!"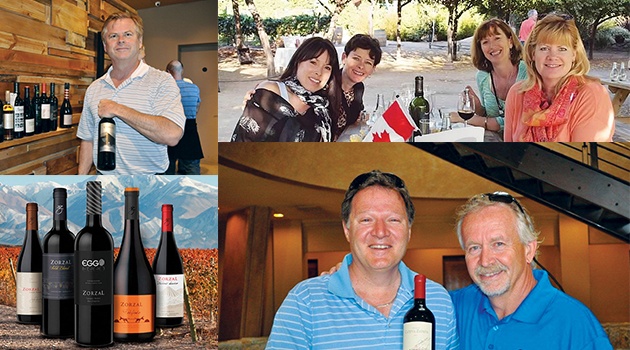 Janette notes one of the exciting things about investing in the winery is the continuation of the learning process. The Browns didn't know much about wine or South America when they signed on and were eager to learn more.
They were also interested in the chance to get involved in an investment with other shareholders who are all around the same age, "the 50ish crowd, the yuppies," says Scott. "We've all had similar experiences and were all looking for something fun to do."
One of the perks of being a shareholder is taking organized trips to Argentina to see the investment up close. About 32 investors travelled to Argentina and Chile in April 2014 for a shareholders' trip. The first visit took place back in 2011, with only about a dozen shareholders taking part. "The latest trip felt like we were a bunch of university kids again!" says Huras. "I don't know how much wine was consumed on the trip, but it was a lot. We were amazed at how well everyone got along, and we believe it's because we all share a common passion for business, wine, travel and friendship."
Dr. Derek Hassay, Assistant Professor of Marketing, Haskayne School of Business weighs in.
---
Does it surprise you that a group of UCalgary alumni built a winery from the ground up in Argentina?
Not at all. Calgarians like to work together and use their shared wealth and shared experience to go out into the world and make things happen. Another aspect of Calgary's business community, which is really quite unique, is serial entrepreneurship. A lot of Calgarians are on their fifth or sixth junior oil company or business venture, and probably made enough money off the first one, but they love the opportunity to put together a team and build something.
Describe the entrepreneurial spirit in Calgary:
Calgary's entrepreneurial spirit is one of the reasons I moved here from Ontario 14 years ago. It's one of the most American cities we have in Canada and there is a real can-do attitude. But there's also a remarkably small business core. It's still easy to make a call and meet someone in the local business network. The condensed core also promotes collaboration. And I really do think there is still a level of honesty, integrity and ethics in business dealings here. In Ontario, you have to be a big company for people to get excited about you, but here people support small businesses and start-ups. It's really a rather unique environment.
Is an "entrepreneurial spirit" something that can be learned?
What we are trying to accomplish at Haskayne is to provide courses in entrepreneurial thinking to kick-start the experience that students are going to have when they get out there into Calgary's business world. Stats say the average person starts a business at the age of 36, but we dream about the day when the average age is 24. We don't want students to wait until they're 36, we want to teach them about entrepreneurism now and say "if you have an idea and there's a challenge, here's how to address the challenge." Our entire strategy is built around supporting the environmental conditions that already exist and just preparing students for it. Our goal is to educate over 1,000 students a year across the campus in entrepreneurial thinking. Some may start a business, but others will carry that way of thinking into careers in tech, medicine, academics. Maybe we can become Canada's most entrepreneurial university one day, and it's alumni like Bruce Murray and Scott Brown from Zorzal who are paving the way.
It's part of the reason the company's slogan — "Wine Unites Us"— fits so perfectly. It's also the slogan the Michelini brothers live by. When the Calgary investors visited Zorzal, they were warmly welcomed by the large, extended Michelini family. On the Saturday of their trip, the investors were invited to the all-day asado — an Argentine barbecue during which heaps of meat were roasted, wine was poured, family time was cherished and live music was provided, courtesy of guitar-playing Juan Pablo Michelini, the youngest brother and also the head winemaker.
"Zorzal is a dream of brothers, where everything flows around this land and family," says Juan Pablo. "The wines are a synthesis of all that we are — brotherhood, music and terroir." He says he enjoys working with the Calgary investor group, as they never take away his "freedom to create."
"I would say that they are crazy winemakers, but in a crazy smart way," says Murray. "They are not afraid to do things differently by taking chances and they are very much artists."
Among the brothers' standout achievements? They were the first winemakers in Argentina to use a cement egg to ferment wine. The Michelinis had been following similar developments in France and wanted to bring the idea to Argentina. Wine that ages in egg- shaped concrete vats is considered more uniform, as there is no dead space in the corners, and is softer in style, with more fruit, as aging in wood is not involved. At first, the Michelinis tried to buy the eggs from Europe, but they were too expensive to import, so they approached a local cement maker and worked with him to design the egg.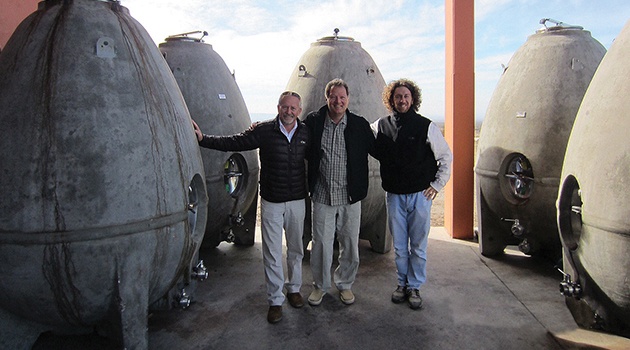 "Here's where the Argentine way of collaborating came into play," says Murray. "The brothers didn't get exclusive rights to the eggs and now the concrete maker is selling them to every other winery in town, making a ton of money! Coming from the oil and gas side of things, where business dealings are more secretive, it's definitely different to see how all the winemakers in Mendoza are very open to sharing their ideas." From the cement egg, the Michelinis created the aptly named Zorzal Eggo wine, noted for its pure expression of fruit.
The winery is now producing 30,000 cases of wine per year, which is where the shareholders want to stay — as a luxury, boutique winery aiming for quality, not quantity. For now, the group is focused on ensuring the winery stays at the top of its game. There are also plans to build a tasting area, a small boutique and several rooms where visitors can actually stay on the winery grounds.
"While we haven't quite turned a profit yet, we're expecting to in the next two to three years," says Murray. "But the return on investment on the fun side has been huge. And yes, it's been challenging, but it's so neat to look back and say, I was part of building something from the ground up.
Where to buy Zorzal wine in Calgary?
Crowfoot Wines & Spirits, Cork, Highlander,
Willow Park and Zyn
"Whether it's oil and gas or wine, the challenge of taking something and making it work is always a big accomplishment. And the connections we make are something we'll never forget. Some day, in our retirement homes, we may reminisce about what we did and accomplished, but I think the stories will be more about the people who touched us — that's life to me."