From the blurry images of Pedro Rodrigues' earliest childhood, one memory is clearer than the rest.
It is 1994. He is four years old as he queues up at the Maracana Stadium in Rio de Janeiro, Brazil, with his father. They sprint to their seats so they won't miss a minute of Flamengo vs. Corinthians. Young Rodrigues cajoles his father to buy some cookies as a special treat during the second half. His team, Flamengo, comes from behind and thrashes Corinthians 5-2. The game is over, and father and son leave the stadium, their hearts full.
It is Pedro Rodrigues' earliest memory. It was the day his love for soccer (or football, as it's known in Brazil and most of the world) was born. "If your first-ever memory is a football match, you have to be a fan," says Rodrigues, BComm' '11.
Today, the Rio native and University of Calgary grad is 25 years old. It's a blue-sky June day and Rodrigues is once again standing outside the familiar Maracana Stadium – considered by many fans to be football's cathedral in the country known as the spiritual home of the game.
The World Cup
As a boy, Rodrigues grew up hearing stories about the legendary final match of the 1950 World Cup between Brazil and Uruguay, which ended in a historic – and agonizing – loss for the home team.
This past summer, the World Cup was back on home turf for the first time in 64 years. At last, Brazil would have the chance for redemption on the field – and the potential to position itself as a successful international host, with an eye to the upcoming 2016 Summer Olympics in Rio.
As hundreds of thousands of fans arrive in Brazil for the World Cup, many of them decked out in their country's colours, cities across the country are dominated by jubilant football frenzy.
In Rio, the famed Copacabana beach plays host to a FIFA fan festival where fans from around the world who can't make it to the stadium take in the games, waving national flags, strolling the boardwalk and enthusiastically encouraging the crowds to sing along with their football teams' chants. Many stay out celebrating wins – and mourning losses – into the wee hours each night, sometimes sipping a caipirinha, the powerful Brazilian national cocktail.
University of Calgary graduate Pedro Rodrigues on Copacabana Beach in Rio de Janeiro.
Stadiums and Soccer
On game days at the Maracana, the Rio subway system takes riders to designated stops, as lucky ticketholders make their pilgrimage to the iconic stadium.
Rodrigues has been a busy host during the World Cup as friends arrive in Rio to stay with him while they take in the games. A lifelong football fan, the chance to live his country's second chance at World Cup glory at home is an experience Rodrigues says he's been waiting for his entire life.
As an up-and-coming business professional, Rodrigues has also been able to use his university education to land the career of his dreams, one that's given him a unique front-row seat to World Cup preparations. His employer, Andrade Gutierrez, a major Brazilian holding company, was responsible for building and renovating four of Brazil's World Cup stadiums. As a business development analyst, Rodrigues didn't work on the stadiums directly, but had the opportunity to visit three of the construction sites, including the Maracana.
"This is like a brand-new Maracana," says Rodrigues, surveying the upgraded stadium the day before a World Cup group stage match between Belgium and Russia. "It's too awesome."
New Beginnings
Growing up in a middle-class neighbourhood just a couple blocks from the Maracana, Rodrigues attended weekly Flamengo matches with his dad.
"I never thought I could find something that fits just perfectly with my degree, but it does." — Pedro Rodrigues
Football, he says, is everything in Brazil. "We talk about it with everyone: the cab driver, the doorman, your boss at work, the policeman," Rodrigues says. Soon after Rodrigues graduated high school in Rio, his father's career in oil and gas took the family to Canada's energy headquarters: Calgary. While intrigued by the prospect of his family's new Canadian home, Rodrigues was hesitant about leaving Brazil, just as he was entering adulthood. But a visit to Calgary soon changed his mind. "I really liked the city, so I thought I'd give it a try, and attempt to get into university," he says.
In 2007, Rodrigues was accepted into UCalgary to pursue a bachelor of commerce degree, majoring in international business. He soon grew fond of his new city.
At UCalgary, Rodrigues says he enjoyed an approach to teaching that was different than back home. He found his classroom experience focused on discussions, with students responsible for analyzing material, asking questions and mastering the information, rather than rote textbook memorization.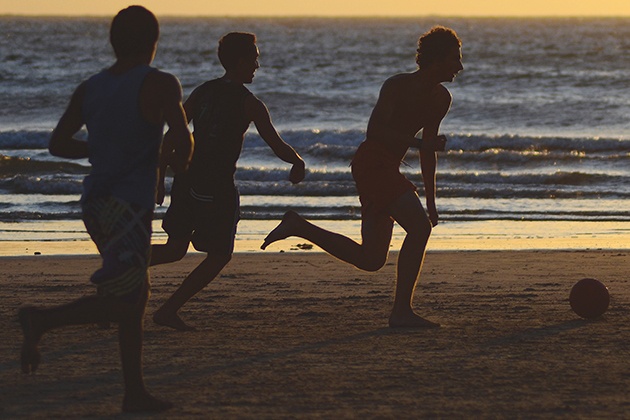 Boys play soccer on Jericoacoara beach in northern Brazil during 2014 World Cup Brazil.
The Return to Brazil
His time in Calgary also led to many treasured friendships, Rodrigues adds. "It was great. I'm grateful I had the chance to study there," he says. In 2011, Rodrigues finished his commerce degree. His subsequent job hunt eventually took him to Portugal, where he spent time managing a hostel. It wasn't long, however, before he felt the pull to return to Brazil. "I had the chance to come back to Brazil, where the economy was booming," he says. Rodrigues soon landed his ideal position as business development analyst with Andrade Gutierrez, a multinational conglomerate headquartered in Brazil.
He found much had changed in his native land in the few short years he'd been away. Perhaps most striking, Rodrigues says, were the many social and economic reforms implemented by popular then-president Luiz Inacio Lula da Silva, whose two-term administration is often credited with developing a new middle class in Brazil.
Rodrigues found first-hand clues of the new, heightened consumer spending power: treats he'd grown accustomed to in Canada, such as chocolate bars and sports drinks, were suddenly appearing on Brazil's supermarket shelves.
"A lot of stuff in Canada hadn't previously existed in Brazil, things like Kit Kat or Monster, you just couldn't buy those in Brazil. Now they're everywhere," Rodrigues says. "It's a sign that people are buying more."
Examining Opportunities
In his current analyst position, Rodrigues examines potential growth opportunities for his company to consider. It's a perfect match for his UCalgary education, he says.
"Rodrigues says what was often lost amid public frustration was that the money used to build the stadiums didn't jeopardize investments that would have been made in those social services."
"I never thought I could find something that fits just perfectly with my degree, but it does," he says.
Rodrigues considers the opportunity to be involved in the construction of four of Brazil's 12 World Cup stadiums — in Rio, Manaus, Brasilia and Porto Alegre — a privilege.
Even in football-mad Brazil, the costly stadiums became a touch-point for criticism of World Cup cost overruns as the US$13-billion price tag of the games, paired with concerns over social inequality, led to protests in the months leading up the event. By comparison, South Africa spent $6 billion on the 2010 Games and Germany's bill came to $12 billion in 2006.
Reflecting on the criticism, Rodrigues says he understands the frustration some of his fellow Brazilians felt over inadequate public health and education services in the country, and the worries that investment in the World Cup would trump social development.
But he says what was often lost amid public frustration was that the money used to build the stadiums didn't jeopardize investments that would have been made in those social services. When the games got underway, the government held public-information campaigns explaining how and why it used the funds for the Games and outlining plans for bolstering social services, he says.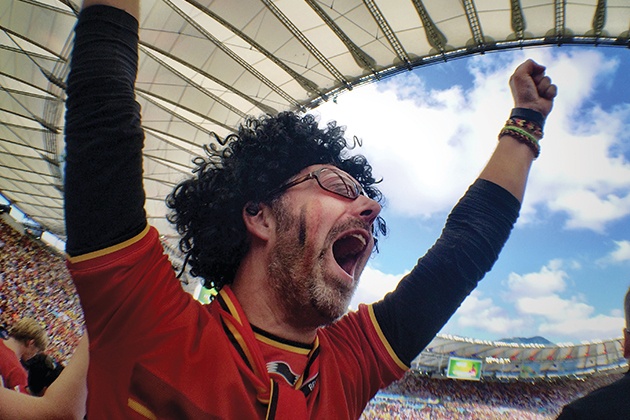 A Belgian fan celebrates a goal as his team plays Algeria in the Maracana football stadium during 2014 World Cup Brazil.
Coming of Age
Rodrigues says he believes the work done preparing Brazil to host the World Cup will bear fruit for the country for years to come, adding that public and private investors, however, now bear responsibility for turning a profit.
"If it wasn't for the World Cup, we wouldn't have an express bus line to the airport, we wouldn't have the investment in the airports. That's just my personal point of view," Rodrigues says.
As the young man launches his promising business career, he believes his home country, too, is now coming of age. The social activism that emerged alongside football fever is just one of the growing pains that come from claiming a place on the global stage, Rodrigues says. Ultimately, the 2014 World Cup attracted more than 1 million tourists to Brazil and contributed more than US$13- billion to the country's economy, according to government figures.
Wake-Up Call
In Rodrigues' eyes, the World Cup was a great success, and hosting the games became a way to "show the world we're capable of organizing major events. [That] we're a country that's worth investing in."
As for Brazil's team making up for its defeat of 1950, things didn't work out as hoped, as the home team suffered a crushing 7-1 defeat to Germany in the semi-finals. "All I can say is that this was a really good wake-up call for Brazilian soccer. We might not be the 'country of football' anymore, and that is something that deeply affects our culture, history and personality," Rodrigues says. "We still treat football as a religion and it is still every boy's dream to become the next [Brazil star player] Neymar, so we have a lot of potential. But we also need to value education more."
Brazil can now focus on hosting the world once again in less than two years at the 2016 Summer Olympics in Rio — and a multitude of eager tourists for many years to come, says Rodrigues.
"I think the World Cup showed the world that [we] can organize great events and everyone should come to Brazil once in their life," he says.
"Having the chance to show tourists from all over the world that we are very warm and welcoming people was probably one of the best legacies from the World Cup."