---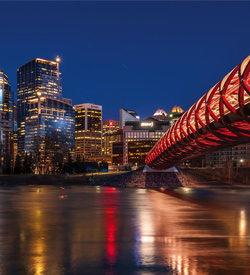 Are Canadian markets truly free? Do show horses get stage fright? Does "game face" improve athletic performance? Is the nursing home unavoidable? These are some of the questions that UCalgary researchers tackle in their quest to find answers to everyday challenges and to move the world forward.
Through the new ucalgary.ca/explore website, the University of Calgary is sharing those answers with the community at large. With accessible, relevant, meaningful content, including web articles, eBooks and videos, the website explores a wide variety of issues, such as the economy, mental health, fitness, running injuries, concussion and early childhood development. Researchers also share their findings through online webinars, during which community members can ask questions and get insights directly from researchers without having to leave their homes or workplaces.
Every quarter, we provide new insights on themes ranging from health and energy, the environment to culture and space, providing opportunities for the community to gain research-based information and connect with researchers, behind the studies.
Beginning this month, we'll be exploring Urban Evolution, looking at issues like healthy neighbourhoods, sustainability, living with pets, immigration, innovation, entrepreneurship and transportation issues. We invite you to explore new answers with us at ucalgary.ca/explore. U
← Back to In the Field
---