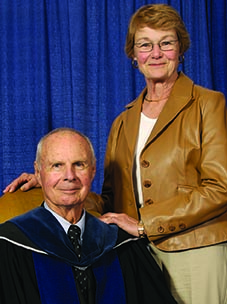 To Serve With Love

Fred and Robin Terentiuk's investment in potential
The Fred and Robin Terentiuk endowed fund supports the Terentiuk bursaries which have grown to more than $430,000 and has provided financial support to more than 23 students in physics, fine arts and Greek and Roman studies.
Robin Terentiuk was raised in a family that deeply valued education and lifelong learning. Her late husband, Fred, grew up with a father who taught him that education was not only a priority, but a worthwhile sacrifice. Together, they would take these lessons to heart and build their life around education, and in particular, around the University of Calgary, leaving behind a legacy as philanthropists, advocates for education and ambassadors for the University of Calgary.
At the time of Fred's death in February 2013, both he and Robin had been faithfully contributing to the student award they created a decade earlier.
"We knew how meaningful it could be for students to receive a boost of support when pursuing an education. We chose to support bursaries because we wanted to invest in potential," says Robin.
And indeed they have. The 2013 Terentiuk Bursary recipient Nirab Pant, a Physics major, says "it has been truly humbling to receive this award and it has given me the courage to dream boldly. I am inspired by Fred Terentiuk's legacy and the work he has done in service to the University of Calgary."
Robin adds, "the decision we made a few years ago to include a gift to the university in our will has become even more meaningful to me since Fred died. It was our way to make a tangible difference in a student's life and demonstrate the values that are so crucially important to us."
Fred's relationship with the university began in 1958 when he was recruited as a full-time faculty member in the physics department of the institution, still known as the University of Alberta, Calgary Branch.
"The small number of academic faculty members in the early years of the university meant everyone participated in all aspects of planning and operating the institution," Fred often said. Faculty members across all disciplines became very close.
In fact, the university's current mantra of 'one university family' was an accurate depiction of the time. And although she worked off campus at IBM, Robin remembers spending countless hours on campus and forging lasting friendships with her husband's colleagues.
In many ways, the university's growth can be credited to that special era of humble beginnings, with Fred playing a proud and important role.
During his tenure, Fred took on numerous leadership positions including the first director for Continuing Education, acting dean of the Faculty of Fine Arts and acting director of the new School of Nursing. He was also instrumental in negotiating the expansion of the Physical Education Complex, additional student housing and the development of the Olympic Oval. His extensive career was recognized in 2008 when he received the Order of the University of Calgary.
"The relationship Fred and I built with the University of Calgary has evolved over time. We have seen the university go through many changes, but throughout all of that, our commitment to the value of education and to supporting student success has always remained strong," says Robin. "I am certain that the university is moving forward in an exciting and important direction and I know that our involvement is helping to make a difference. It is a memory of our legacy together that is especially heartwarming to me now."