Wisdom 2.0 — Finding Time to Press Pause and Reset

In a world besieged by multitasking and constant connectivity, mindfulness is gaining traction in numerous fields of study
by Barb Livingstone
---
In her ongoing battle with cancer, 56-year-old Calgary psychiatrist Dr. Carla Atkinson takes half an hour each day for meditation that relieves stress, alleviates fatigue and clears her cluttered mind.
For Calgary family physician Dr. Brendan Miles, his personal daily meditation allows the 34-year-old to focus on each of his 15 to 20 daily patients, in the moment, without carrying baggage from previous sessions.
Both are part of a global interest in "mindfulness," a therapy credited with everything from increased productivity at tech giants (think Google) and to relieving depression and post-traumatic stress disorder (PTSD), to helping children's brains deal with ever-increasing life anxieties instead of depending on medication.
Being present
In a nutshell, mindfulness means dealing in the moment; without judgment; being present and paying attention; of listening to your heart. One can eat mindfully, work mindfully, parent mindfully. Programs often combine meditation, yoga and stretching — practices that link mind and body health.
And, lest it be dismissed as "new-agey," neuroscientists have shown — through brain-imaging technology — that the practice affects brain areas related to perception, body awareness, pain tolerance, emotion regulation and complex thinking.
American neurobiologist Dr. Dan Siegel describes mindfulness as the mental-health version of dental hygiene — as important in daily life as brushing your teeth. It's something that is increasingly gaining cachet in Calgary with medical residents, cancer patients, university students, the caring professions and the corporate community.
Mindfulness-Based Stress Reduction
One of the city's earliest practitioners was Dr. Linda Carlson, a professor in Psychosocial Oncology at UCalgary's Cumming School of Medicine. She became interested, while still in university, in the work of molecular biologist Dr. Jon Kabat-Zinn, who has trained people around the world in Mindfulness-Based Stress Reduction (MBSR).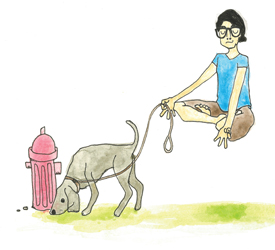 It was while Carlson, now director of research and a clinical psychologist at Tom Baker Cancer Centre, was doing a medical training rotation that she helped modify Kabat-Zinn's program into Mindfulness-Based Cancer Recovery (MBCR), focusing on challenges faced by people living with cancer and their supporters.
MBCR launched in 1997 and a pilot study monitored patient progress, measuring outcomes of stress and mood systems. In 89 patients with a variety of cancers, there was improvement of 65 per cent in mood and 35 per cent in stress symptoms, compared to controls. The patients reported less tension, depression, anger and concentration problems and more vigour, as well as fewer physical manifestations of stress.
The eight-week MBCR program combines meditation and yoga through weekly group practice, a weekend retreat and daily home practice. A patient handbook accompanies a program that helps about 200 people per year. Atkinson signed up for the course in 2012 and has continued the practice ever since, including during a second round of cancer treatments.
"Just focusing on breathing and what is going on in your body gets you out of the busy mind," she says. "You think clearer; I am not as tired."
Stress and University Life
Atkinson says her family notices the difference, with one daughter now using meditation to help cope with her own stresses of university life.
And those anxieties are one reason Derek Luk, mental health education coordinator at UCalgary's student union wellness centre, has become a teacher in MBSR and developed an online study program.
Luk has worked in the mental health and addictions field for the past eight years. While helping design a course for fourth-year nurses, he saw addictions as often stress- or pain-based. Further research supported mindfulness-based cognitive therapy as being as effective as anti-depressants in reducing relapses for the chronically depressed.
Luk is particularly concerned about burnout, especially in the caring professions.
"People don't learn how to take care of themselves," he says. "They are hard on themselves instead of living in the moment, and the body reacts with toxicity to the brain."
The more mindfulness is practised, Luk says, the stronger the brain gets, in the same way constant physical exercise strengthens the body.
His own daily meditation starts with letting his dog outside. In 10 minutes, Luk says, "I sit, I watch, I listen. You can do it any time — standing in a line, washing dishes."
Mental Health
Luk's research has a very personal hue: he lost a nursing colleague to suicide just days before taking his MBSR training.
"We had worked in the mental health unit together and she had struggled with her own mental health and depression and no one knew," he says, adding many first responders struggling with PTSD face stigma if they seek help.
Luk's current master's thesis addresses whether an eight-week simultaneous online mindfulness program reduces burnout for Calgary nurses.
Five years ago, mindfulness was also introduced to the curriculum for UCalgary medical residents.
Dr. Todd Hill, director of behavioural medicine in the department of family medicine, surveyed faculty and residents, assessed family medicine programs across the country and found a need for medical learners to deal more effectively with their own work stresses, while developing better relationships with patients.
"In the literature on developing skills, the term that kept coming up was 'empathy,'" says Hill. "How do you teach that? What kept coming up was that mindfulness was relatively easy and produced robust results."
The Research for Mindfulness
Hill says, with growing demands on medical residents, including long hours and heightened knowledge expectations, support is critical for potential anxiety and depression in physicians.
He says the exploding field of research on mindfulness for medical learners shows improved empathy resulting in both doctor and patient satisfaction, and decreased burnout and anxiety levels. It has also shown to decrease medical errors, while increasing complex problem-solving under stressful situations.
"Mindfulness is very active exercise; you are constantly trying to keep the brain in the moment," says Hill.
"Brains are skittish and want to go here and there." Mindfulness is now included in both communications and wellness labs for residents, conducted by Hill, accompanied by practising family doctors like Miles. For Miles, personal mindfulness (including listening to music), is "a reset. It is calming and prevents me from getting overly stressed or anxious."
Professionally, it means: "being aware, in the moment, on purpose," and listening to each patient. U
---