Manjit Minhas and Ravinder Minhas, BSc(Eng)'05

Beer baroness and dragon. Beer baron and passionate film/TV producer. Fifteen years ago, the teenaged siblings launched Mountain Crest Liquors while hitting the books as UCalgary engineering students. Today, the youngest distillery owners in the world have also built Calgary's Minhas Micro Brewery into a $155-million business and launched Spotlight (producing 240 TV episodes and five documentaries a year). Manjit — in her spare time — is also a new star of CBC's Dragons' Den.
by Barb Livingstone
---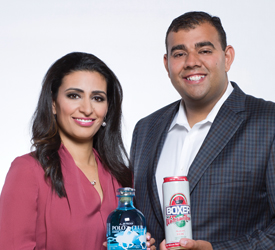 If you were a teenager again, what would you do differently?
Manjit: I don't regret anything about my entrepreneurial path, but I wish I'd had more unscheduled fun; I was always in the books or doing paperwork.
You're supposed to be studying to be engineers — what was your parents' reaction to your liquor sideline?
M: My dad came to this country from India with nothing. He had an engineering degree and had to redo it here (UCalgary, '81) while working two jobs. His message has been, "Do what you want, but you have to have a plan." A very big part of our business success is we never went into debt; we never had fancy offices downtown. We were taught to live within our means.
Ravinder: My mom was, "No, don't do it; go to school and get your degree and then do those things". After convocation, she said, "OK, now go do what you want."
What's the worst thing about working with your sibling?
R: I am more of a spendthrift than Manjit. She will ask, "What is the logic behind that purchase?" and my answer is, "There was no logic, that's the point." My wife and she gang up on me.
M: He knows everything about me; I can't hide anything from him.
What's the best thing?
R: There's always a pinch-hitter behind you. We share successes and failures — and the little victories are sometimes the biggest celebrations that no one else gets.
M: The same as the worst — he knows everything about me.
Manjit, what do you bring to Dragons' Den?
M: A new, younger perspective. Most dragons have been 50-plus. I am a mom in a different generation. I am also culturally Sikh, so I am reflective of Canada and the audience. I am also tough. If you are asking for my hard-earned dollars, I have tough questions to ask. These are real questions about real money. I have to believe in you as a person, as well as the product.
If you could dine with anyone, who would it be? What would you eat?
M: Richard Branson [founder of Virgin Group]. He would be amusing, entertaining, but down-to-earth. Some people at his level live in a bubble, but he knows his customers. I am vegetarian, so pizza.
R: Jay Z [rapper and businessman]. I like his philosophy of business and life — doing it his own way, while having fun; combining a successful business and family life [with singer Beyonce]. And I would order venison, because I am a hunter.
What's on your bucket list?
R: I want to build a distillery in Calgary, next to the brewery. And I'd like to arrange some sort of behind-the-scenes tour to every major sports event where I'd take my dad.
M: While we sell beer in 16 different countries, we haven't covered all of Canada. I want to open another brewery in Eastern Canada. U
---