---
I've always been a soup-and-sandwich guy. Back in my elementary school days, I loved a nice ham sandwich with beef barley soup packed by my mother.
So, when I arrived at the University of Calgary in the fall of 1973 with my meager summer savings and a student loan, I made a deal with myself. I would cook my own meals except lunches on Mondays, Wednesdays and Fridays, the days when I had a 9 a.m.-to-noon class.
On those days, I would line up with all the other drama nerds (I took a BA in Psychology and Drama) and music geeks at the little cafeteria in the basement of Calgary (now Craigie) Hall. The food selection was small — a few muffins and cookies, some bags of chips, three or four sandwiches and a steaming pot of soup. The daily goods were rolled over on a cart from the main cafeteria in MacEwan Hall each morning and served up by a smiling lady who was unfailingly pleasant and efficient. My soup and sandwich was less than two bucks and was always fresh and hearty.
At the time, Mac Hall housed Dinnie's Den and the Black Lounge, as well as the main cafeteria. The main room was dull and colourless, with long rows of tables under fluorescent lights and food that was alternately cold, soggy or crusty, regardless of the time of day. Adventurous dining here was spaghetti with meatballs, with tater tots on the side. I ate in the main cafeteria once a year, just to see if the food had gotten better. It never did, but I wondered how my satisfying, thrice-weekly soups and sandwiches could come from the same kitchen. It remains a mystery.
I frequented the Black Lounge — known as the Black Lung — even less. A fully smoking room, you could barely see from one end to the other. The windows darkened over the years from lingering smoke and ashtrays constantly overflowed. It's changed — only the central, copper-clad fireplace remains from the 1970s.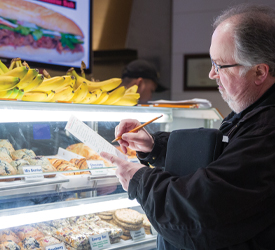 Dinnie's Den saw more of me. My food-and-beverage budget was stretched frequently with after-class brews — 65 cents for a Pil — in the crowded, windowless basement bar. It's grown much since those days.
I graduated in 1977, working with various theatre companies, including the original Loose Moose group. But theatre rarely paid well so, in 1980, I landed a job with a magazine; writing, editing, selling advertising. Eager to fill blank pages, my colleagues and I wrote some restaurant reviews. A few months later, I received a call from CBC wondering if I might be able to do some of those reviews on the radio. I've been showing up at CBC every Friday morning since.
During the 1988 Winter Olympics, my goal was to have a meal in the Athletes Dining Hall, otherwise known as the main dining hall of the residences. Restricted to athletes only, the centre was closed to all media and my many requests for a visit were uniformly denied.
So I went another route, bribing my way onto the U.S. bobsleigh team with a set of rare Olympic pins. The team enlisted me as the sixth member of the group, tugged me in bobsleigh gear, and, together, we strode into the Dining Hall to lunch with speed skater Bonnie Blair, figure skater Debi Thomas and various Eastern Bloc athletes who gorged on fresh fruit. (The food itself? More spaghetti and meatballs.)
And so it was with great interest that I recently ventured into the grand food hall of the current edition of MacEwan Hall. Chains abound, multicultural options proliferate and fixed tables bask under big skylights. It's a bright, busy place, but the busiest of all 19 food tenants is the double-double-sized Tim Hortons with its constant dual lineups. Regardless of colour or creed, students seem to love their doughnuts and Roll Up The Rim cups.
The food kiosks are similar to those found at most shopping-mall food courts, focusing largely on big portions, loads of starch and middling quality, that average $5 per meal. There are some good, some bad, and some downright ugly. But, although many sandwiches from paninis to Vietnamese subs are available, and a multicultural mélange of soups abounds, it's missing a place where you can get a good ham sandwich with a bowl of beef barley soup. Pity, that.
Spanning several lunch hours, I plunked myself down at one of 1,100+ seats in Mac Hall's food court that produced some 1.96 million meals last year. A few of Mac Hall's eateries, herewith:
| | |
| --- | --- |
| Kobe Beef | There's nothing remotely Kobe about the beef served at Kobe Beef. It's not even the Canadian, Wagyu-Angus cross that is similar to the richly marbled, Japanese style of beef. Ask the workers here about it and they just laugh. Not that the food at this quick Asian fry-up place is bad. It's just not what the label says it is. |
| The Bake Chef Co. | This Vietnamese sub shop does a well-seasoned version of the popular banh mi. I had the chicken satay — served unnecessarily with cheese — on a brown roll with my choice of cucumber, carrots, lettuce and soy sauce. Not bad at all, but it falls into the all-too-frequent problem of a too-big roll instead of a crusty baguette. |
| Korean BBQ | Hands-down, the most food for the money I encountered, with big piles of rice and cold Korean noodles under a swack of grilled beef. Saucy and richly spiced, it was good food-court Korean food, served with a smile, something not found at many of the booths. |
| Fuel For Gold | The healthiest of the Mac Hall offerings, Fuel For Gold's menu was created by a team from the Canadian Sport Institute using high-quality and nutritious ingredients. Great sandwiches and salads (like the quinoa with tomato and parsley), all very fresh. Note: FFG seemed to have the shortest lines when I visited. |
| Umi Sushi Express | Some of the weakest sushi I've had lately, Umi's does not measure up. Mostly, it's the fault of the rice, the backbone of any good sushi. Umi's is hard and bland, overly packed into tight balls, not giving the fish a chance to stand out. Cuts are ragged and rushed and the flavour is dull. |
| La Prep | La Prep does a decent Vietnamese salad roll, constructed with greens, sprouts, noodles and shrimp. The accompanying peanut sauce is a bit thick and muddy but, overall, the rolls are a pleasant between-class snack. |
John Gilchrist, BA'77, is a Calgary-based food and travel writer and restaurant critic. He has published 11 books on dining in the Calgary area and taught Food & Culture programs with UCalgary's Continuing Education for more than 20 years. U
---