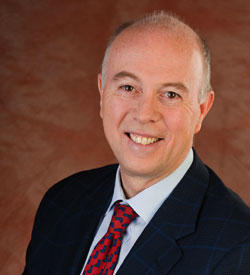 As the University of Calgary's 50th anniversary celebrations conclude, it's a good time to share how the university is responding to what matters to us in our relationship with our alma mater.
Here are highlights from last year's survey of alumni:
80% of us are interested in what is happening at the university and in our home faculties;
73% are interested in attending university events with an intellectual, educational or cultural focus;
50% +/- are interested in career-related programs and activities; and
50% +/- want to keep a lifelong relationship with UCalgary.
These statistics have refined and reenergized the university's alumni relations effort with new programming, increased opportunities for engagement and improved communication content and tools.
New career-related programs include monthly virtual and in-person career coaching, as well as bimonthly webinars covering topics like resume writing and interview preparation. In the coming months, alumni will be invited to participate in our UCalgary Stampede event, the Calgary Pride Parade and Alumni Weekend 2017. Program content and access to many other university events will continue to evolve in response to alumni feedback.
For alumni wanting to participate in university life beyond attending events and programs, there is an increasing number of opportunities for alumni to volunteer as workers, hosts, speakers, mentors and in leadership roles. Alumni are also encouraged to help shape UCalgary's legacy by shining a light on alumni accomplishments, such as by nominating a worthy colleague for an Arch Award (deadline for 2017 nominations is May 10), or by letting us know about a colleague's success so that we can recognize and share it with the university community and beyond.
To keep you up to date on what's going on at the university, alumni now receive two email newsletters each month. Alumni News (second Tuesday) focuses on university matters of general interest and interesting stories about alumni. Alumni Connection (fourth Tuesday) highlights events, programs and activities that we are invited to attend. It's also easier than ever to stay connected through Twitter, Facebook, Instagram or LinkedIn.
For more information on programs, volunteer opportunities, sharing colleagues' successes or to sign up for your favourite communication channel, please go to ucalgary.ca/alumni. U
— Vern Kimball, President of UCalgary's Alumni Association
---
---