---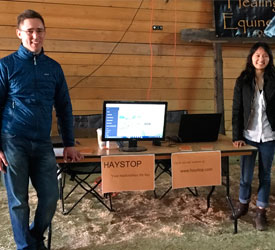 Flash back to August 2015.
Alberta's agricultural industry was experiencing such a severe drought, a disaster was declared. Insufficient rain and heat were withering crops, including hay. Farmers were scrambling to feed their livestock.
"There was panic on the farms," recalls Sebastian Hanne, BA'06, whose parents own a small family farm north of Cochrane. "Hay prices had tripled from about $30 per bale to $90 per bale, or more. Neighbours were banding together to try and bring in hay from Manitoba."
Hanne, 35, and his girlfriend, Tianne Huang, 29, remember being surprised about how the situation was unfolding.
"There were temporary websites going up and Facebook groups all over the place with farmers posting hay requests. It was kind of chaotic," says Huang. "And we asked, 'Is there a way to help in a more systematic way? How can this process be improved if this ever happens again?'"
It was then that their idea for Haystop.com was born. The couple wanted to create a one-stop online shop where people could easily buy and sell hay. Their goal was to bring together hay buyers and sellers for a more transparent and efficient exchange.
"Previously, farmers had to call neighbours to try and find what they wanted," says Hanne. "But they wouldn't know about the quality or price beforehand. And, if you're new and not tied into the community, you wouldn't know where to go, which we found archaic."
Hanne and Huang launched Haystop in the summer of 2016 after spending about a year cold-calling local farmers and researching the industry. The website acts as a listing service, posting hay ads with a description, cost, location and contact information. The couple says the site is slowly growing and there is a need, but some farmers are still resistant.
"A lot of it is about habits," says Hanne. "We tell farmers the idea and they seem to like it, but then they go back to how they've been doing it for the past 20 years — this involves a psychological change."
Huang says a generational shift is coming. "The average Alberta farmer is in their 60s or early 70s and doesn't use a computer or smartphone," she says. "But, with the decline of the oil industry, many tech-savvy people in their 20s and 30s are coming back to their family farms and will be looking online."
The couple's goal is to make Haystop the No. 1 place for hay in Alberta and neighbouring provinces. In the future, they would like to incorporate transportation, so that, when farmers call for hay, delivery arrangements can also be made. They plan to use a freemium model with free hay listings and premium features like transportation and online payment processing for a fee. They may also add a mobile app to complement their website.
"It's scary and daunting at times, but it's definitely worth it," says Hanne. "Whenever a farmer submits a hay listing, or asks us to guide them through the website, it's rewarding. It's the little successes that keep us motivated." U
---
← Back to Notebook
Next Article →
---