High school teacher for 20 years, itinerant traveller and author of three books, Glenn Dixon reflects on Verona, his disastrous love life and Fyodor Dostoyevsky. Aiming to right his past failings — he so wanted to be a rock star and a writer — Dixon now plays in The Barrel Dogs and has just penned Juliet's Answer: One Man's Search for Love and the Elusive Cure for Heartbreak.
---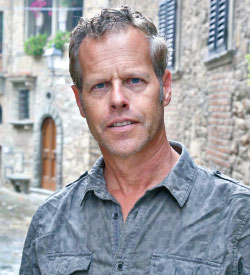 What did you want to do at 18?
I wanted to be a rock star. So I moved to Toronto and joined a band. But I remember opening the fridge one day to see one lonely apple and I had only $10 to my name, and saying, "This is not a good idea." So I came back to Calgary.
How did you become an ESL teacher?
I always wanted to create and so, when I failed at being a rock star, I decided I wanted to be an art teacher. However, the jobs were in ESL, which I wound up loving enough to take my master's in linguistics, which I also loved.
What else did you do while you were a student?
When I was an undergrad, I was on the swim team. When you were a teenager, what were your favourite books? The Brothers Karamazov and Zen and the Art of Motorcycle Maintenance.
Who are your literary heroes today?
David Mitchell (loved Cloud Atlas) and Alice Munro (for her sentence structure).
How many times have you taught Romeo and Juliet?
20.
What is your favourite play of Shakespeare's?
Hamlet.
How many letters did you write while volunteering in Verona at the Club di Giulietta (House of Juliet)?
I ended up going back three times, so, maybe 200.
How many letters does the club receive a year?
About 10,000, and each one is replied to, and signed "Juliet."
Were any of the letters difficult to write?
Yes, we received one from a 21- or 22-year-old woman who had cystic fibrosis. Her boyfriend wanted to marry her, but she wasn't sure. "We know how this is going to end," she wrote in her letter.
What was your reply?
I consulted with the other secretaries and we jointly decided to suggest she say yes. We saw ourselves as a sympathetic ear, not a problem-solver.
What were some of the biggest lessons you learned while writing letters?
You should love yourself first and others will follow. And one of the secretaries told me that every time you answer a letter, you are answering yourself. I believe that.
How did you structure this book?
This one was a great unwieldy thing because my agent decided she wanted something different from what I had pitched. So, halfway through the writing of this book, it began writing me. I had no idea I would venture into the dark rooms of my soul and that the book would become so personal.
Sticking with the theme of romance, what is one of your favourite love songs?
Here, There and Everywhere by the Beatles.
Any guilty pleasures?
Red wine . . . just another reason to love Verona, which is surrounded by the hills of Valpolicella. And any kind of pasta.
Of the 75 countries you've travelled to, where does Italy fall?
There are a handful that I would go back to time and time again — Italy is one of those.
Any travel tips?
Go in the off-season. But, if you do go in the summer, get off the main tourist trek and visit Verona where you will find opera being performed in a Roman coliseum that seats 20,000 people.
Do you have a motto you live by?
A line by Romeo that fits in with the theme of the book: "I defy you, stars!"
What other research is included in this book?
I applied for special permission to see the second quarto of Romeo and Juliet that is housed at the British Museum. To be taken into a vault and be given the original play (under 100 pages) that fit in the palm of my hand was the most extraordinary thing.
Any advice for new students?
If you don't know what you want to do, start off in general studies. You will find professors along the way who will help you focus. U
---
← Back to Unconventional Paths
---