---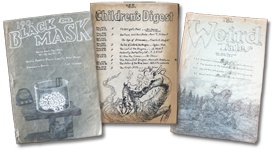 Just as treasures buried in an ancient tomb hold the key to the mysteries of lost civilizations, so, too, might the riches of the Bob Gibson Collection of Speculative Fiction unlock the untold origins of the science fiction genre.
Literary historians typically agree that the seeds of sci-fi were planted in the 1800s by the pioneering likes of Jules Verne (Twenty Thousand Leagues Under the Sea), Mary Shelley (Frankenstein) and H.G. Wells (War of the Worlds). But our understanding of that history could be in for a radical revision thanks to a SSHRC- funded University of Calgary-based research project spearheaded by Stefania Forlini — an associate professor in the Department of English — that seeks to digitally explore the depths of the Gibson Collection.
The late Bob Gibson was a Calgary science fiction fan who amassed an incredible collection of more than 35,000 genre-related items over the course of his adult life. The collection included books, pulp magazines and 888 anthologies, handcrafted by Gibson himself, with stories culled from rare popular periodicals published from the mid-1800s to the 1990s.
When Gibson died in 2001 at the age of 92, his son, Andrew Gibson, BSc'88, MSc'93, a University of Calgary alumnus, donated his father's collection to the university's Libraries and Cultural Resources department, where it is housed in Archives and Special Collections. It is considered to be one of the largest science fiction research collections in the world and is an invaluable source for scholars. It's no wonder that such literary greats as Neil Gaiman and Michael Chabon — each of whom have given talks at the university as part of the Calgary Distinguished Writers Program (CDWP) — marvelled at the collection when they were here.
"When I came to Calgary in 2008 and discovered the Gibson Collection, I was in awe," says Forlini, who teaches classes in science fiction literature. "It's so vast.
"I'm interested in the popularization of science fiction and how it evolved within these 19th-century periodicals that Gibson collected in his anthologies."
Because the collection is so massive, however — there are about 13,000 stories within Gibson's anthologies — efficiently exploring it was a near-impossible task for one researcher.
"As an English scholar, my background didn't train me to deal with thousands of stories at a time," Forlini explains. "But the history I want to uncover needed to be based on thousands of stories. I knew I needed computer-assisted textual analysis."
This led to Forlini's collaboration with Uta Hinrichs, PhD'13, an alumna from Calgary who is now a computer science professor at the University of St. Andrews in Scotland. With SSHRC funding, the pair developed the Speculative W@nderverse, an online visual search interface that allows both researchers and casual science fiction fans to explore the stories included in the collection. (Found at http://stuffofsciencefiction.ca/vis/Wonderverse, the site works best with Firefox and Google Chrome).
At present, in collaboration with Libraries and Cultural Resources and Bridget Moynihan, BA(Hon)'13, BA(Hon)'13, MA'15 (now a PhD candidate at the University of Edinburgh), they have so far scanned and digitized 50 Gibson anthologies containing about 1,500 stories. Key search words on the Speculative W@nderverse website provide a multitude of entry points to the anthologized stories.